At Naturia, you can pitch your tent, put your mobile home or rent one of our 6 fully equipped safari tents for 2 or 4 people (available from 2 nights).
You can also rent a real fisherman's hut, a caravan from the 50's or a camping car from the 90's, ...
Reservations can be made: 
by phone : +32 492.48.07.51
by mail : info@naturia-chimay.be
on the online platform: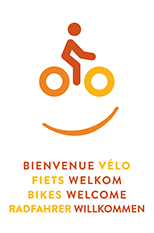 Naturia is certified WELCOME BIKE
We are located at a maximum of 5 km from a bicycle network (RAVeL, 
point-node networks,...).
We provide a secure and covered room free of charge.
We provide a repair kit and a first aid kit if necessary.
We offer on the possibilities of having a hearty meal.
We provide useful information on cycling networks and services for cyclists.
Naturia has become a member of
We benefit from support to maintain and refine the quality of our services in line with our transition project.